Your Hands,
Your Tools
Our Affordable
Installation Packages,
Our Expert Consultation
An unbeatable combination
that will add resale value,
comfort and efficiency
to your home.
Your Hands,
Your Tools

Our Affordable
Installation Packages,
Our Expert Consultation

An unbeatable combination
that will add resale value,
comfort and efficiency
to your home.
THIS IS WHAT RADIANT WILL ADD TO YOUR HOME.
A new level of comfort and efficiency. Comfort is always nice and energy efficiency is becoming more important every day.
Greatly improved health. Yes, radiant heat will make your family more healthy. Ordinary systems blow dirt, dust, germs, viruses, allergens and pet dander around the home all winter long. It is easy to understand why people tend to be sicker during the winter. The design of your heating system is a very big factor.
A positive contribution to the environment. You can do something directly, with your own hands to make the world a better place for the next generation.
A valuable energy system for a fraction of the cost that others have to pay. Buy directly from the manufacturer, without all of the middlemen. You will be in control of the project from start to finish.
The latest in energy efficient technology.
Added resale value to your home.
Possible energy efficiency tax credit. Click here for tax credit information.
Increased pride in your home and satisfaction in a job well done.
LET US SHOW YOU HOW!!
Download or read these installation manuals right from our website.
The work can be done by a reasonably competent Handyman or do it yourselfer.
Staple-up installation manual
Instructions for installing tubing between the floor joists.
If you have access to your floor joists from below then you can install radiant heat
. This manual shows you how!
Ceiling installation manual
Installing tubing in the ceiling used to be a very common method for installing radiant heat and
is an excellent way to add comfort to any space
if you don't have access to the floor. This also works as a good supplement if the floor heat cannot entirely heat an area.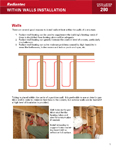 Wall installation manual
Instructions for installing tubing in the walls. Another good way to increase the comfort level of any space.
This also works as a good supplement
if the floor heat cannot entirely heat an area.
IF YOU CAN SEE YOUR JOISTS FROM BELOW, THEN YOU CAN DO THIS!
A nearly finished installation may look something like this
The Staple-up system is the most common way to add radiant to any structure, new or old. With the staple-up system, aluminum heat emission fins are used to hold the radiant heating tubing up against the bottom of the sub-floor. A reflective barrier and insulation is then installed below this so that all of the heat goes in the direction that you want which is up into the room above.
If you can see your joists from the floor below, then you can enjoy all of the benefits of radiant heat by installing a "Staple-Up" system. If you utilize your water heater as the heating source, you now have a system that is SOLAR COMPATIBLE! Click here to learn more about that option.
WHY SHOULD RADIANTEC BE YOUR RADIANT HEATING SUPPLIER?
Experience: We've been in business since 1979. All of our technicians have installed hundreds of thousands of feet of radiant heating tubing, so they will be able to provide real world solutions to your questions.
Quality: The bulk of our system is manufactured in the US with many of the components manufactured in our own facility by our experienced staff. All of the equipment that we manufacture is subjected to industry best testing practices BEFORE it is shipped out the door.
Warranty: The tubing, which is the most important part of the system, comes with an industry best LIFETIME WARRANTY!
We work for YOU: Our mission statement is to provide the best service and advice possible even if that advice results in smaller sale. That's why our design assistance, brochures, installation manuals, consultation, quotes, and material lists are provided for FREE and before you've made any type of purchase commitment.
Credibility: All Radiantec systems meet the requirements of the major code bodies and of the ICC (International Code Council). Furthermore, Radiantec has an A+ rating with the Better Business Bureau.
Energy Efficiency: Radiantec's ultimate goal is to sell the most energy efficient systems possible. We understand at times that shortcuts can be taken to reduce the upfront cost of a radiant system but shortcuts should NEVER be taken at the expense of energy efficiency. One example of this is the use of aluminum heat emission fins which we advocate while others do not. Click here to learn more about the emission plates.
USE YOUR OWN EXISTING
WATER HEATER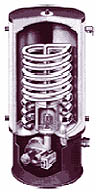 For the lowest possible cost.
Or invest in the Polaris Water
Heater for stainless steel quality
and the highest possible efficiency.
There is one development in radiant heating that is downright exciting!
Now, you can use a domestic water heater instead of a boiler to supply the warm water that you will need. This application meets the major national codes and can save you thousand of dollars. In many cases, you can even use your own existing water heater. Click here to find out why you should use a water heater instead of a boiler.
When you use a domestic water heater, your project becomes compatible with solar energy, either now or in the future. Click here for more information about these exciting applications.
USE SOLAR ENERGY, EITHER NOW OR IN THE FUTURE.
If you have a place for a few solar collectors, you can enjoy tax credits and lower energy bills.
Feel free to browse the rest of our site for more information. www.Radiantsolar.com
See the many choices that are available to you. Radiantec technicians are always available for assistance.
HERE'S HOW TO GET STARTED!
Call customer service at 1-800-451-7593. You will get honest and sincere advice. Your technician is charged with treating your project as if it were his own. Click here to see how customer service can help. If it is after hours or if you don't want to speak with anybody yet, you can also go to our Next Step Form.