Engineered Heat Exchanger Tubing (SmartWall)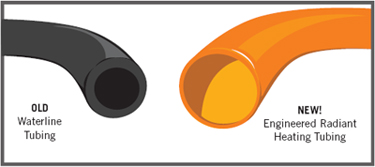 Many of the products that are used in radiant heating applications were originally designed only for the purpose of carrying water from one place to another (waterline). However, waterline may not be an ideal material for use as a radiant heat exchanger.
THERE ARE MANY ADVANTAGES to an engineered heat exchanger tubing that is designed specifically to make radiant heat. Move your mouse cursor over any advantage below to read more information about that topic.
How much more heat will an engineered tubing provide you?
The amount of increased heat transfer is variable according to temperature and will be in the range of 18-28%.
Radiantec's energy efficient tubing was developed with grant support from the United States Department of Energy. Considerable effort went into the design of a radiant heat exchanger tubing that had optimal characteristics of service life, energy efficient heat transfer and minimal electrical requirements for pumping. Flow through the tubing was optimized to be "slightly turbulent". Laminar flow (which is very smooth) and fully turbulent flow (which requires excessive pump work) are both to be avoided.
TECHNICAL INFORMATION
The amount of heat that a heat exchanger tubing puts out is directly related to the surface area (size) and the thickness and conductivity of the walls. Other factors such as the rate at which the heat can then be carried away from the tube, are relevant as well.
"Workability" factors are very important to consider. The tubing must not kink readily or require unusual skill or care during installation.
Service life and performance should never be sacrificed for very easy installation. Rubber radiant heat exchanger tubings are highly questionable.
Some degree of over design is often appropriate for safety and service life. However, the design of heat exchanger tubing always involves trade offs and gross over design in one area will usually compromise another. Waterline products are engineered for pressures of 100 psi at temperatures of 180° F They may be grossly over designed if a tubing will operate at 15 psi and 120° F.
Lower operating temperatures in a radiant heating system are important for energy efficiency, safety, long service life and compatibility with alternative energy. Energy efficient condensing heating units operate particularly well at low temperatures.
PERFORMANCE PARAMETERS
FOR RADIANTEC SMARTWALL TUBING
vs
STANDARD ½° PEX WATERLINE

Sample Heating Output 150° degrees F°
Standard 1/2″ nominal PEX Waterline 100 psi @ 180°F — 33 BTUs/ft
Radiantec SmartWall™ 5/8″ nominal PEX 80 psi @ 180°F – 42 BTUs/ft
Radiantec SmartWall™ 7/8″ nominal PEX 60 psi @ 180°F – 58 BTUs/ft
It is seen that the larger engineered tubings have significantly higher heat outputs which can be used to lower temperatures, increase efficiency and/or increase system responsiveness.
Pump Work Comparison**
Standard 1/2″ nominal PEX Waterline 100 psi @ 180°F — .66 ft head
Radiantec SmartWall™ 5/8″ nominal PEX 80 psi @ 180°F – .33 ft head
Radiantec SmartWall™ 7/8″ nominal PEX 60 psi @ 180°F – .17 ft head
The larger engineered tubings (SmartWall) require smaller pumps and use significantly less electrical energy to operate the heating systems.
* sample staple up application; other applications may vary
**friction losses @ .75 gpm/100ft tubing assuming 300 ft circuits