RADIANT HEATING IS ALL WE DO, AND WE DO IT WELL.
When you purchase a radiant system from Radiantec, you get so much more than a box of miscellaneous components. First and foremost, all of us at Radiantec place the utmost emphasis on customer service. We are not simply a retailer of plumbing components. Our goal and passion is to offer the most efficient radiant heating systems at the lowest possible price.
We've spent 40+ years in the radiant industry researching products, developing new technology and creating easy to install packages. We have helped to drive the price of radiant heating down to a more affordable level for the average homeowner.
Find out about the value of our pre-assembled, pressure tested installation packages.
Get an exact quote for your project. You can fill out a form, or speak directly to a staff member.
(1-800-451-7593)
Which Radiant Tubing Should You Use?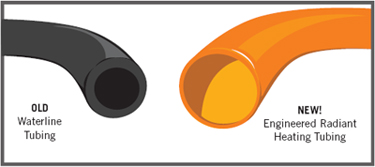 Many of the products used in radiant heating applications were originally designed as waterline – intended only for the purpose of carrying water from one place to another. However, waterline may not be the best material for use as a radiant heat exchanger.
Choosing which tubing to use for heat transfer between your heated water and your floor is one of the most important decisions you will make in your project.
Important factors to consider include:
DURABILITY – These tubes should last the life of the project. They will probably be placed within the floor and it will likely be both difficult and expensive to replace them in the future.
HEAT TRANSFER PROPERTIES – The purpose of these tubes will be to transfer heat from the water to the floor. As such, larger tubing with a slightly thinner wall will put out more heat.
WORKABILITY – If the tubing will be installed in a crawl space or other difficult area, you should select a more flexible tubing. A smaller tubing with a somewhat thicker wall will be easier to work with in that case.
Radiantec Recommends
Our Engineered Heat Exchanger Tubing
(SmartWallTM Tubing)
Radiantec's energy efficient tubing was developed with grant support from the United States Department of Energy. Considerable effort went into the design of a radiant heat exchanger tubing that had optimal characteristics of service life, energy efficient heat transfer and minimal electrical requirements for pumping. Flow through the tubing was optimized to be "slightly turbulent". Laminar flow (which is very smooth) and fully turbulent flow (which requires excessive pump work) are both to be avoided.
THERE ARE MANY ADVANTAGES to an engineered heat exchanger tubing designed specifically for a radiant heating application.
Move your mouse cursor over any advantage below to read more information about that topic.
How much more heat will an engineered tubing provide you?
The amount of increased heat transfer is variable according to temperature and will be in the range of 18-28%.