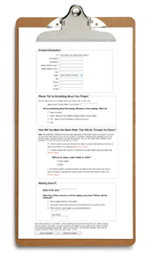 When you take the time to fill out this form, you will receive a comprehensive quote for your project which will include:
Design assistance,
A materials worksheet detailing the zones and what material goes where,
Estimated heat-loss calculations, and
A breakdown of the components with pricing.
Typically, one of our technicians will contact you to further discuss the information you provided.
WE NEVER SHARE OR SELL ANY OF YOUR INFORMATION!
If you need to order material quickly just call us and ask for a phone quote. 1-800-451-7593
If you have a floorplan available, there is a space to attach it at the end.
Items marked with an * must be filled in.
"I have contacted several radiant heat companies and you folks are the only ones that would take the time to discuss my project with me. I chose to purchase your system and love it. Thank you for your design help."
-Kathleen, MN
After a successful submission, you will be redirected to our thank you page.
If it jumps back to the top of this page instead, we did not receive your request!
Please go back and check for the highlighted errors.
They will be red like this.
Thank you!